A garden pond can transform your outdoor space. At Amin Aquatics we take our years of experience in the aquatic and construction industry to bring you both bespoke and preformed garden ponds; fully designed, installed and maintained. As specialist garden pond builders, we can provide you with a vast range of design ideas for your garden pond or will make your own vision through our in-house manufacturing service. Whatever the project, we will be able to install the water feature or pond of your dreams.
Design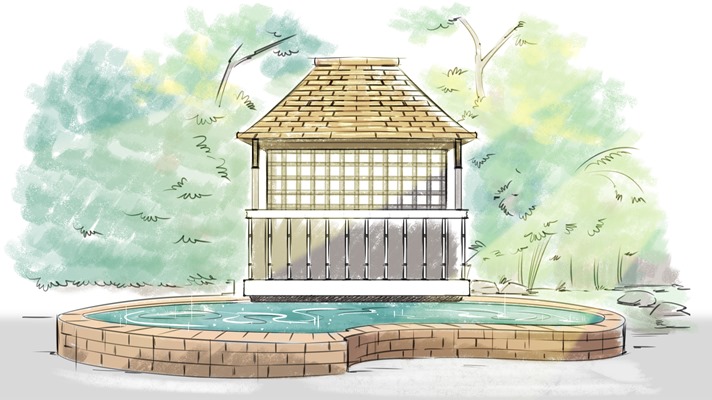 Design
Amin Aquatics will work with your landscapers and garden designers or directly with you to create the ultimate garden pond or water feature. We will create CAD images and artist impressions for you to really visualise your garden design before we begin building your pond. We will be able to discuss the size, materials and other special features of your pond at this stage. We will then be able to decide on which pond construction style is best for your garden project be it a pond liner, preformed pond or a poured reinforced concrete construction with fibre glass.
Manufacture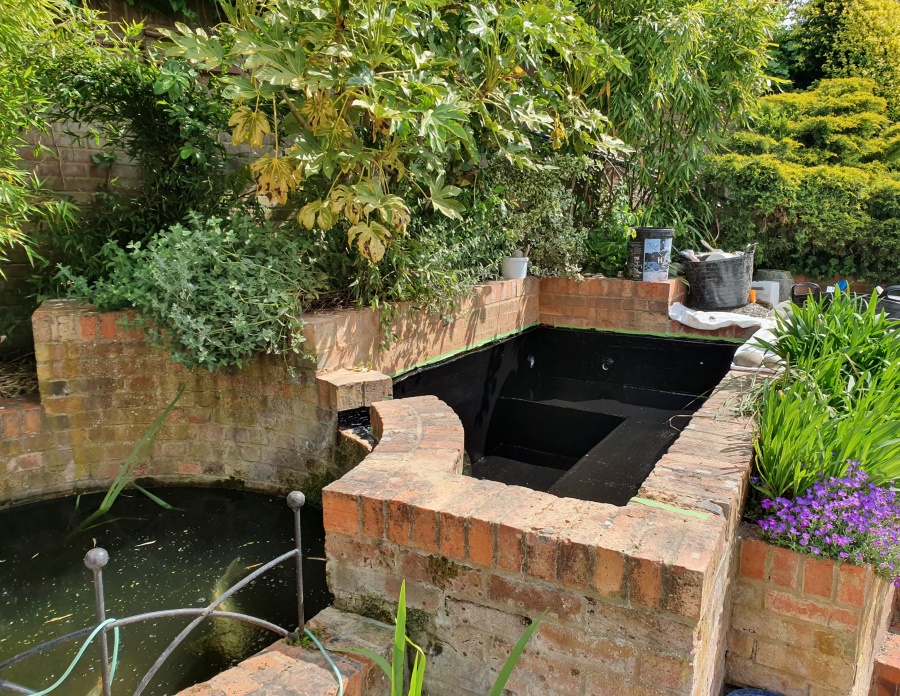 Manufacture
Our experienced garden pond builders will be able to manufacture your pond infrastructure to fully meet your expectations. We can make anything from a small pond or water feature although the way up to a man-made lake. If you choose to go for pond liner, preformed ponds or fibre glassing we will ensure that the finish of your pond is up to scratch! Our inhouse fibre glassing specialists carry years of experience add can even build your pond with features such as windows for raised garden ponds.
Install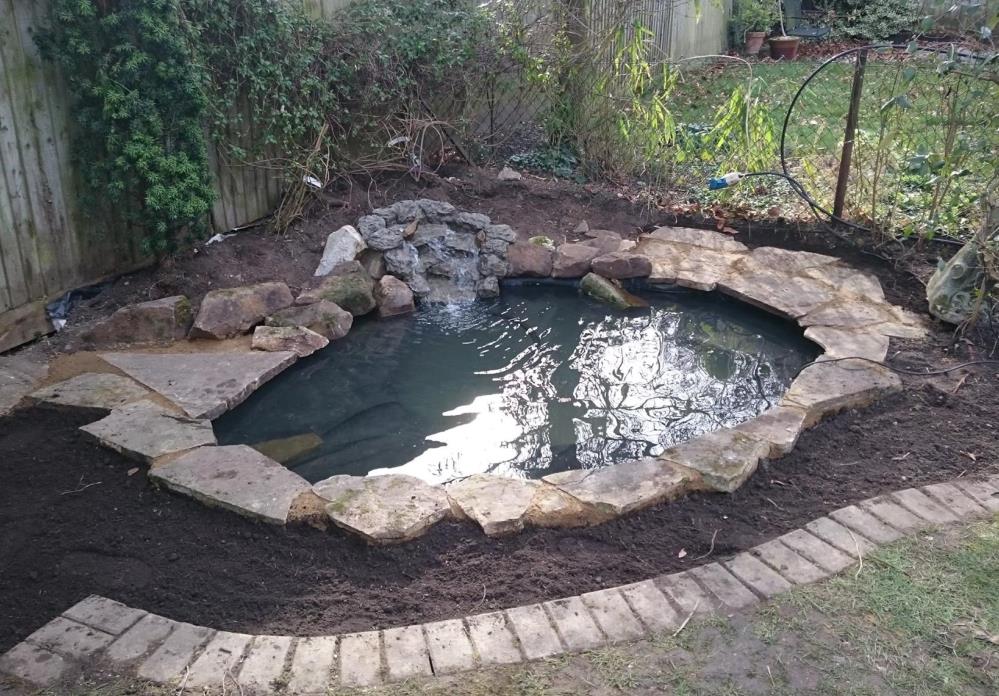 Install
Alongside installing the lining of your pond, either preformed ponds or custom manufactured options, we will also install a full pond filtration system. As OASE authorised installers we can offer a clear water guarantee* on any new installation. We install a wide range of garden filtration from simple off the shelf pond filters to pipework laid underground and even full filtration rooms. Our extension experience in the construction industry allows us to make any installation a reality. We will run through all the different pond filtration options with you. Our team have attended residential and yearly training courses with Firestone and OASE which means that we are knowledgeable of filtration and are authorised installers.
*must have recommended filtration and service requirements
Maintain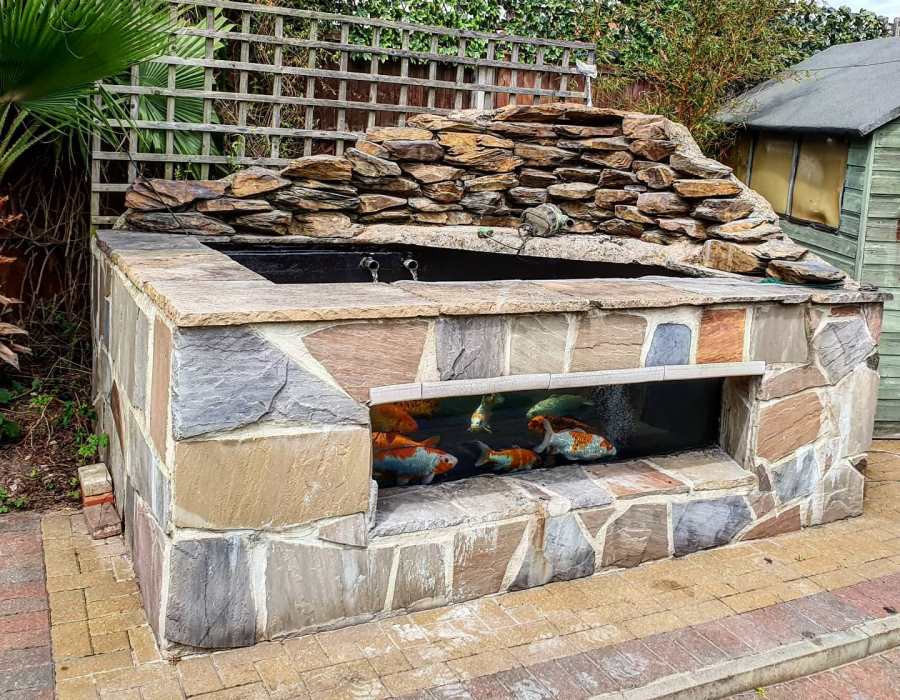 Maintain
We have all seen them, and some of must have one. Ponds full of algae, blanketweed and hardly recognisable of containing any water at all! Amin Aquatics offer a pond cleaning service both for the garden ponds which we have installed or as a standalone service. Our pond maintenance is flexible and we offer a range of options from one-off deep cleans to regular pond cleaning contracts. Our service packages can even help to spread the cost of pond cleaning throughout the year. We will make sure that your pond keeps looking good all year round and can even provide you with updated filtration systems to maintain the water quality of your garden pond. As part of our maintenance service, we can also offer an onsite fibre glassing service which will involve us emptying and resealing your pond to create a strong and seamless finish.
Safety First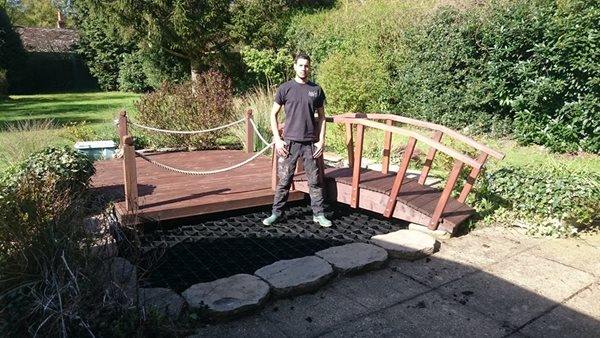 Safety First
Garden ponds can be a lovely feature at your home, but they also can pose a risk particularly if you have children living at or visiting your property. To reduce the risk of water-based incidents, we are authorised dealers and installers of Safapond modular systems. As a parent myself, I highly recommend the Safapond system as it is a subtle and barely visible safety measure which helps to keep your children safe. The system is made up of grids which are installed into the pond a short distance below the surface of the water. If a child were to fall into your pond, they would be stopped by the grid and could then easily get back out themselves or with the help of an adult. They are strong enough for an adult to stand on yet when you look at your pond you will hardly be able to see the system as it is installed below the water surface, unlike netting which can be unsightly and detract from your lovely garden pond. It is important to always keep an eye on children when they are around a garden pond but the Safapond modular system will act as an additional safety measure to keep your family safe.