Amin Aquatics can help bring your custom aquarium design ideas to life. As bespoke aquarium builders, Amin Aquatics has over 11 years' experience of designing custom tanks to suit the vast and varying range of our clients' lives and lifestyles. No matter if you are looking for a marine, tropical or cold-water bespoke aquarium, we will work with you to bring your ideas to life.
As well as over a decade of aquatic experience, our team also hold years of experience within the construction industry. This really allows us to transform the biggest and wildest ideas into a reality. While we are able to turn 'off the shelf' tanks into a spectacular feature, our real shining star is our ability to design, construct and install a wide range of custom aquariums within house.
The Custom Aquarium Process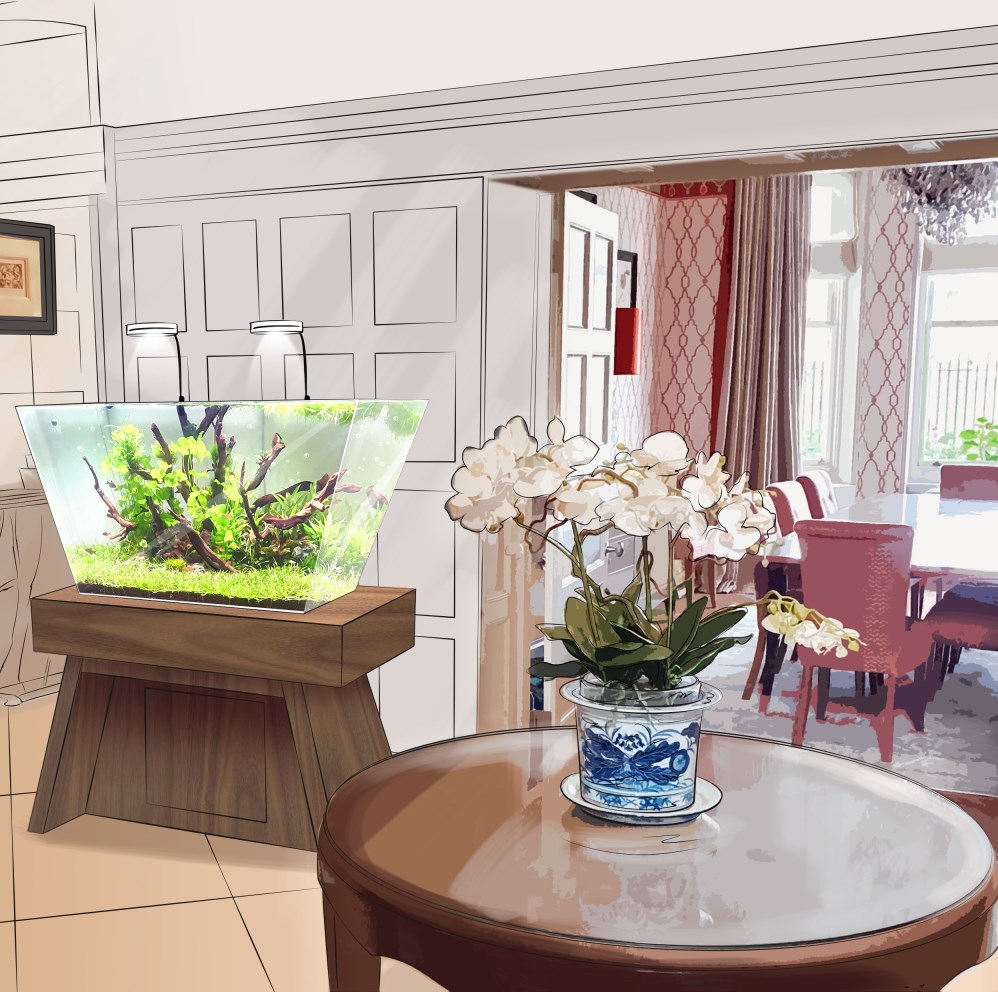 The Custom Aquarium Process
Whether you are looking for a simple tabletop tank, a wall installation, or a truly unique one-of-a-kind aquarium, you will benefit from our extensive consultation process. First, we begin by offering a one-to-one aquarium design consultation appointment to discuss your needs, to get a feel for your project vision and to provide you with endless suggestions you may have never imagined! Amin Aquatics will then draft a computer-aided design for your approval before the construction process begins.
To create your perfect custom aquarium, we will use either glass or acrylic materials with a range of standard or custom-made wood finishes in our workshop. Once your tank has started to take shape, we will then arrange a date with you for your aquarium installation service including equipment set-up and checking water quality levels. Amin Aquatics can install the majority of our custom aquarium installations in-house, but for larger scale projects we will liaise directly with architects and builders to implement the installation. All tanks, equipment and fish will be transported to you in our customised vans complete with oxygen supply and heating to ensure a safe journey for the livestock and aquarium onboard.
Then, it is time to enjoy your brand-new aquarium. All our tanks are designed with long-term maintenance in mind to keep aquarium care and maintenance as simple as possible. To take your ongoing tank experience that extra mile, we can then liaise with you to find the perfect aquarium care and maintenance package for you.
The Aquarium Installation Process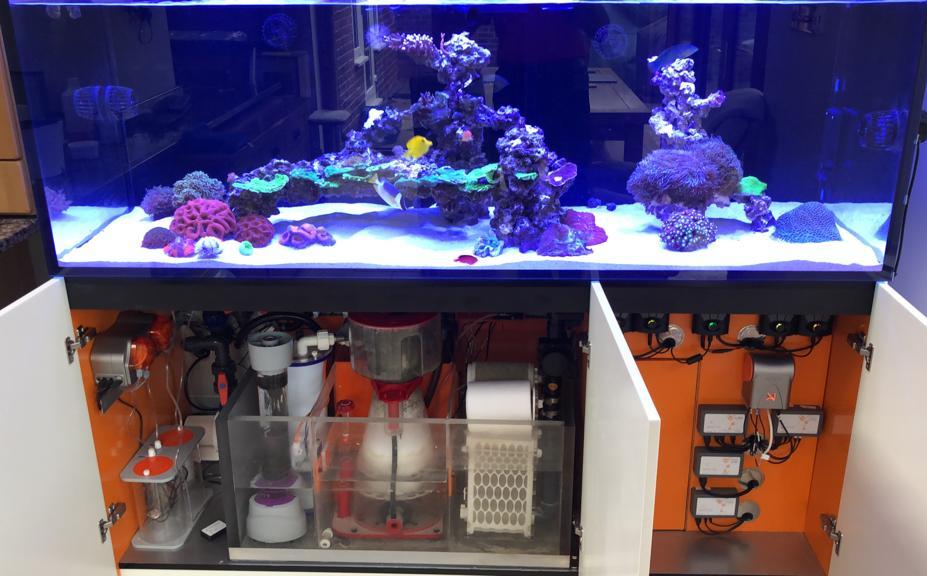 The Aquarium Installation Process
Amin Aquatics are also proud to offer a full installation service for 'off the shelf' aquariums to fit your home or commercial space. While this may not be a custom-built tank, our pre-made tank installations are no less comprehensive. We have the skills, knowledge and experience to ensure the installation of your aquarium is painless and stress-free and we will be sure to source the best quality tanks, equipment and livestock for your project.
After a consultation to find out your aquarium goals, our team will visit you at an agreed date and time to carry out the full installation of your tank. From setting up the filters and lights to ensuring the water is the optimum temperature for your fish, we will have your aquarium installed as quickly as possible.
Both our custom and pre-made aquarium installation services are available anywhere in the UK and we are also happy to travel internationally for tank installations.
The Aquarium Care and Maintenance Process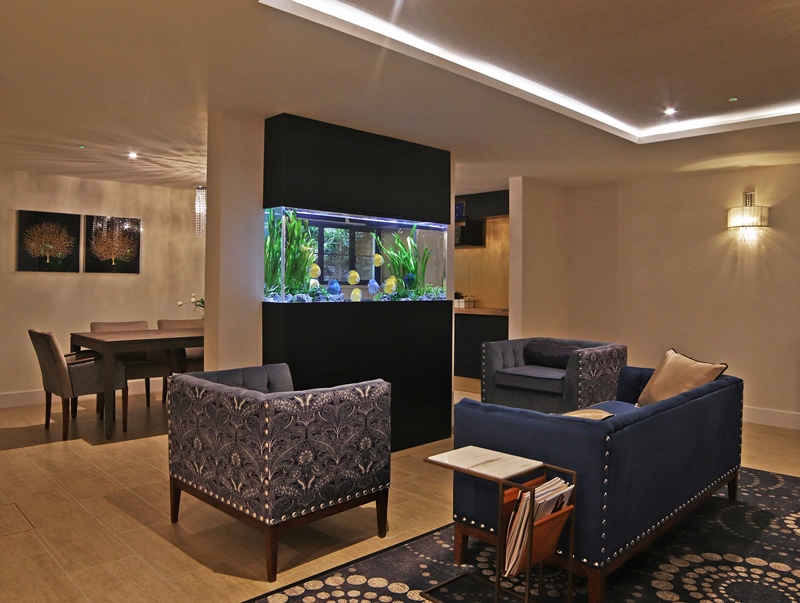 The Aquarium Care and Maintenance Process
Filters, algae, and water changes? It is not necessarily the highlight of fish keeping! While tanks installed by Amin Aquatics are designed to minimise ongoing aquarium maintenance needs, every tank does need to be taken great care of both for your satisfaction and for the wellbeing of your fish. To help you to optimise the health and quality of your aquarium, we offer a range of aquarium maintenance services from one-off aquarium 'services' to regular annual contracts on a weekly, monthly or otherwise selected basis once your fish have settled in.
Our aquarium tank maintenance service is designed to help a wide range of fish keeping enthusiasts. Our maintenance service can help those who are unsure how best to care for their tank, who have tanks requiring bespoke care or those who simply do not have the time!
We will work with you to decide what is best for you and your tank's needs. Our fish tank cleaning services are available in in London, Berkshire, Buckinghamshire, Oxfordshire, Hampshire, Kent, Middlesex, Surrey and Sussex for regular maintenance. We also cover any area of the UK or overseas work if required.
Other Aquarium Services
Other Aquarium Services
Rentals
Are you in need of a temporary aquarium? Our rental aquariums are perfect for a wide range of purposes for homes, offices, schools or even short-term rentals for TV and Film. Perhaps you are living in temporary accommodation, your school is hoping to have a tank during term time or any other need you may have for a temporary aquarium feature; we can help.
Aquarium Manufacturing
Amin Aquatics specialise in custom aquariums. Whatever your vision for your aquarium, we can design, manufacture, and install a bespoke aquarium for your needs as we take you through our extensive consultation process.
Aquarium Removals
Moving house? It's stressful. And one question which you may be asking yourself is how do I move my fish tank to a new home? It is a big task and one which many people do not do properly which can result in damaged tanks, expensive replacements, and unnecessary disruption for your fish. We will collect your aquarium and livestock from your home and safely transport and install your tank in its new location. Or, if you have a tank which you no longer need, we are also able to remove your aquarium and dispose of it appropriately; taking the stress and worry away from you.